We bake using natural and clean ingredients. We bake daily without artificial colors, artificial flavors and unnecessary additives. We are proud to offer gluten free bake good options. We do not use wheat flour in our baking.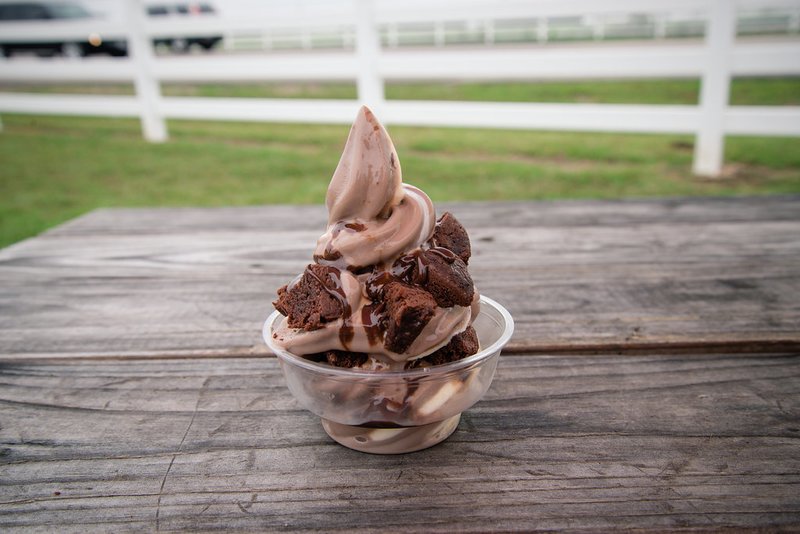 Welcome to Chocolate Drop Confections
SOFT SERVE SUNDAES – Small $3.99 Large $4.99 SOFT SERVE TREATS
Cake Sundae - Chocolate Cake, Hot Fudge Sauce Frozen Cookie Sandwich 2 for $6
Hot Fudge Sundae - Hot Fudge Sauce, Peanuts or Pecans Root Beer Float $5 Vanilla Soft Serve w/ Virgil's Natural Root Beer
Oh Sweet Caramel - Sweet Caramel Sauce, Pecans or Peanuts Banana Split $7
Rainbow Drop - Natural M&M's, Caramel Sauce, Natural Sprinkles Frozen Pint Soft Serve $4 Dairy - Vanilla, Chocolate, Twist
Chocolate Faced Louis – Hot Fudge, Choc Sauce, Mini Choc Chips Frozen Pint Soft Serve $4 Non-Dairy - Strawberry, Lemon & Orange
Brownie Sundae - Brownie Pieces, Hot Fudge Frozen Oreo Like Soft Serve Cake Slice $5
Oreo like Sundae - GF Oreo like Cookie Pieces, Chocolate Sauce
Gummy 4 Your Tummy - Gummies, Caramel Sauce, Sprinkles SOFT SERVE CONES – Small $1.99 Large $2.99
Rocking Heath – Heath Bar Pieces, Chocolate Sauce Choose from Vanilla, Chocolate or Twist
Let us know if you want a "Gluten Free Cone"
DESSERT WAFFLES with SOFT SERVE $10 SPECIALTY CHOCOLATES
7-inch Belgian Waffle made with Pearl Sugar, topped with Choc Caramel Pecan Turtles $1.50 each $7.50 half doz. $15 doz.
Vanilla, Chocolate & Twist Soft Serve and Whipped Cream (Milk Chocolate and Dark Chocolate)
Caramel Banana Waffle – Bananas, Peanuts and Caramel Sauce Fudge Slice $3.00 each
Heath Bar Waffle - Heath Bar Pieces, Caramel and Chocolate Sauce (Milk, Dark, Pecan, Walnut, Almond Coconut, Peanut Butter)
Sandwich Cookie Waffle - Oreo like Cookie Pieces, Chocolate Sauce Chocolate Peanut Butter Balls $7.50 half doz. $1doz.
Confetti Waffle - Natural M&M's, Natural Sprinkles, Caramel Sauce Truffles $2 each $10 half doz. $20 doz. (when available)
FRESH MADE BELGIAN WAFFLES $9 BAKED GOODIES
7 Inch Waffles made with Pearl Sugar, served with Butter, Pie Slice $4 each
Powdered Sugar, Pure Maple Syrup and Whipped Cream Mini Pies $8 (as available)
Loaded Waffle (Banana, Blueberry, Strawberry, Pecans) Whole Pies $20 (fresh and frozen)
Bacon Waffle (Bacon pieces cooked in Waffle) Cake Slice $4
Strawberry and Cream Waffle Mini Cakes $6 (as available)
Banana Walnut Waffle Cupcakes $2 each $20 dozen
Cinnamon Sugar Covered Waffle Brownie Slice $4 Plain, Walnut, Pecan Baked Donut Holes, Choc & Vanilla, with Icing Cup $6 dozen
SIMPLY GOOD BELGIAN WAFFLES $7 (Donuts available on Friday and Saturdays)
Basic Belgian Waffle, served with Butter and Pure Maple Syrup Dons Famous Banana Nut Bread $5
TREAT YOURSELF COOKIES $1 each $5 half dozen $10 dozen
Pudding Cups $6 2 for $10 Chocolate Chip, Peanut Butter Chocolate Chip, Snickerdoodle
Mini Trifle Dessert Cups - $6 2 for $10 Natural M&M, Chocolate w/ White Chips and Cookie of the Week
Sampler Box $20 - Variety of Goodies Frozen Cookie Slugs On To Go 1 dozen $10
PARTIES AND CELEBRATIONS DRINKS
Cookie Gift Box $20 16 Cookies, Card and Ribbon Hot Coffee $2
Decorated Cupcake Gift Box $24 12 Cupcakes, Card and Ribbon Bottle of Cold Brew $4
Party Trays - Variety of Goodies Small $30 Large $50 Cold Brew Over Soft Serve $5
Whole Pies $20 Hot Chocolate $3
Ozarka Water $1
Horizon Organic Milk $1.50
Orange Juice $1
We Bake with No Artificial Colors, Flavors and Unnecessary Ingredients.
Gluten Free options available.
Whole Cakes, Slab Pie & Party Trifles – 48 Hour Notice. Catering Menu Available
Ice Cream Socials, Birthday Parties and Office Parties
Delivery Local and Ship Nationwide, Fresh and Frozen
We Appreciate You!
www.chocolatedropconfections.com 512 657 7336